I don't tweet a lot. I hear Facebook is so yesterday, and I only look at Instagram while I'm in the bathroom—but Twitter is supposed to be where it's at. As a writer, I find it hard to narrow my thoughts down to a mere 140 characters, including hashtags. But at AWP 15 in Minneapolis, I tried to get in on the fun and hit the highlights of my time there.
April 9: "Don't let anyone consider your poems confessionalist. That's crap." –Jan Beatty, #AWP15
I went to "The Poem as a Bodily Thing" panel, where I heard some wonderful thoughts on poems as a, well, bodily thing. This quote by Jan Beatty (who've I've admired for a long time) definitely struck me. Her point was about sexism and how no one would ever consider a man to be a confessionalist poet. I'm a woman, I'm a poet, and I've most-definitely been labeled as confessionalist. Jan is a wise woman.
Apr 9: "It's time to stop worrying about if people like you. You are grown-ass adults. Time to pack that away." -@ElissaSchappell Amen! #AWP15
Talk about a great panel! I went to "No Shame: Sex Scenes by Women, About Women." My friend Julia Fierro was on that panel (and side note: it is SO much fun meeting your internet friends IRL at AWP). The room was packed. People were sitting on the floor. There was laughter. There was thoughtful conversation. There was confidence oozing over the front of that room that we couldn't help but get some on us. Elissa Schappell had some great words, to the point with no apologies. Might have been the best panel I've ever been to at any AWP, but that's like trying to choose my favorite leg.
Apr 9: Best booth ever! @TwoofCupsPress @teneiced Was it whiskey or bourbon? I can't remember! #AWP15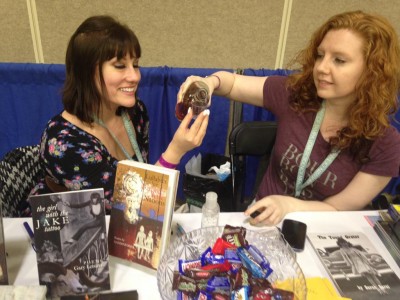 I tweeted this after my evening was over. I passed one booth offering a free shot of bourbon when you purchased two books from them, but wasn't seduced. Later, I told the ladies at this booth about it. One pulled out the plastic shot glasses, the other pulled out the liquor. "You don't need to buy anything from us," they said. They gave me a shot. And then I bought several things from them throughout the course of the conference. Let that be a lesson to you, other booths!
Apr 10: I'm 17 again, fangirling over @TaylorMali! Also realizing I had awesome teachers that introduced him to us. #AWP15
There's a saying my dad used to tell me: "When scoring your first touchdown, act like you've been there before." Well, sports analogies are lost on me. So, when I see that Taylor Mali is going to be at a booth I'm walking past, then happen to catch the eye of man sitting behind the sign, smirking at me as I read said sign, then look at his name tag to see his name is Taylor Mali, yeah, I kind of lose it. I hugged him before I introduced myself. I bought his book. I had him sign it to my best friend. And then I asked him to take a selfie with me. My high school English teacher was very much into the poetry slam scene in Chicago, and in the mid 90s, Taylor Mali was pretty much inventing it. I like to think he's somewhere now, telling the tale of how the redheaded lady with the cat-eye glasses nearly knocked him over with excitement.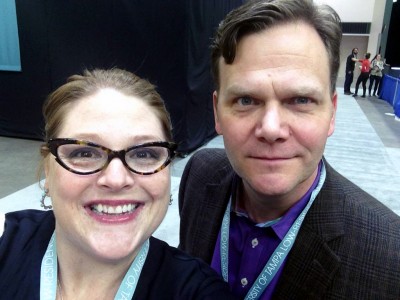 Apr 11: Listening to Rita Dove, five feet away from her. No one else has noticed! At the @tatestreetorg booth! #awp15 #fangirl
This was the actual conversation in my head: "Ooh. I like that lady's shirt. She looks just like Rita Dove. Oh my God. That is Rita Dove!" I looked around like I'd just spotted George Clooney picking up his dry-cleaning. "Where's the line of fans?! Where's the paparazzi?!" I asked myself. She was reading a poem for Robert Pinsky's Favorite Poem Project. In between takes, we conversed a little, and I may or may not have had a hand in keeping the aisle quiet while she read.
AWP is like a literary comic-con. There was always another panel I wanted to attend or booth I wanted to hit. With time and money limited, I think I did okay. Now, to read all the material I brought back with me!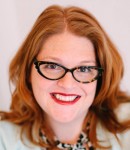 Jessica S. Frank is a journalist, poet and fiction writer living in Wisconsin. Though she has many publication credits under her belt, no one in her small town believes her. You can find her online at www.jessicasfrank.com or on Twitter at @jsfrank79.