I'd been told many times how large AWP would be. Statistics were bandied about (550 panels and readings! 2000 presenters! Over 700 journals!) until the convention became something beyond comprehension. I worked on my schedule for three days before realizing how redundant it was to plan for something so full of activity and opportunity. Go with the flow, the behemoth seemed to demand.
The first of many panels that I saw was the enticingly titled "Sympathy for the Devil: Writing 'Unlikable' Characters." As the name suggests, the panelists were dedicated to explaining why a character that you want to hang out with is not necessarily better than a character you would never want near your children. References as diverse as Humbert Humbert, Bullet in the Brain and the Devil, were supplemented with the panelists' own readings about white supremacists, violent teenagers and puppy-drowners to create an enthralling mix of discomfort and fascination. Needless to say, it was not a reading for the faint of heart.
On the topic of things which make the heart faint, the next day saw Minneapolis' own Graywolf Press present some of their recently published writers. To stand out in such a group is impressive, and Mark Doten's excerpt, prefaced by him calling for painkillers and accepting a handful of fries from a woman in the front row, stood out enough for me to buy his book immediately. Hearing about a soldier from the Iraq war vomiting maggots while trying to book a restaurant for his anniversary is something that stays with you. There was beauty to balance it, however, as Tony Hoagland, Catherine Barnett and Jeffrey Reynard Allen, amongst others, read poetry and prose that could do no less than soothe a hungover soul.
At AWP one could certainly never complain about lack of variety. The events at the conference ranged from the breath-taking reading from Roxane Gay and Marie Howe's poetic litany of penis types, to the tale of starting a dramatic podcast about supernatural occurrences in Minnesota. To say there was something for everyone would be an understatement, because the only downside to AWP is that there are too many somethings for everyone at any given time. Being spoiled for choice is a wonderful problem to have.
But it wasn't all readings and lectures, because a huge part of the conference is simply the atmosphere. Being among thousands of like-minded literary nomads was as close to a pilgrimage to Mecca as I will get. The Minneapolis streets—clean, quiet and, in the eyes of any New Yorker, fit for royalty—were constantly lined with tote bag-swinging, lanyard-wearing writers. "There sure are a lot of writers," one Minnesotan remarked in the elevator.
This multitude also provided the frequent pleasure of bumping into an idol. Queuing for coffee behind Karen Russell was enough to wake me up one early morning, and seeing Claudia Rankine stroll through the center was a thrill, to say the least. Yet it is these encounters that remind you what an open and encouraging community the literary one is. There are giants with inspiring stories and unbelievable talents, and they, like anyone from a small press or MFA program, are ready to stay up all night discussing poetry and wake themselves up with a free glass of bourbon in the bookfair.
Surprisingly, however, one of the most anticipated parts of AWP is not anything literary. If you have thousands of writers in the same small city, and stimulate them with enough Muses to last a lifetime, you can be sure that there will be no shortage of celebration once evening hits. Hundreds of creative types all dancing together with abandon is an incredible sight, and not one you would witness anywhere else. If the writing life ever seems dull, one need only remember the pick-up lines uttered that night: "You're the magical to my realism," "Do you want to be part of my memoir?" and my personal favorite, "So, what's your genre?"
AWP is a wonderfully unique event, and a great source of inspiration, community and fun for any writer. I'll see you in LA.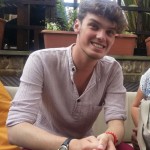 Josh King is a first year MFA student at Adelphi University, New York. He writes short stories and plays, and studied his undergraduate degree in London. His literary heroes include Bukowski, Camus and Martin Amis.