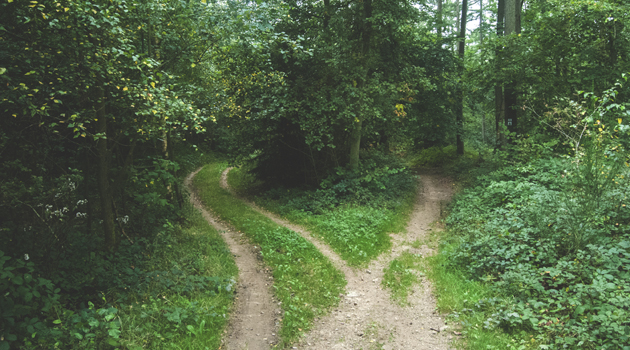 May 03
I've been getting lost lately. I'm forty now; getting mixed up and turned around isn't a problem I recall having as a twenty-something. It began one day in my late thirties when I went for a walk by myself in the subdivision where my brother lives with his family. Only the day before, I'd gone for a run with my seven-year-old niece, who rode her bike. She suggested we head to the back side of the subdivision, where I'd never been before. She was confident we wouldn't get lost. I followed her, and as she promised, we made it safely back without incident. I thought I'd paid attention to the path she took. Right, right, right around the curve, left around the man-made retention pond, where the luxury homes of the subdivision are situated, and then back out again to the street where she lives. It didn't matter that all the monstrous brick homes in the ritzy section looked the same. It didn't matter that the only way I can distinguish my left from my right is which ring I wear on which hand. It didn't matter that there were no landmarks, apart from the fancy retention pond.
I was confident I wouldn't get lost the next day when I decided to go for a walk. If a seven-year-old could do it, certainly I could. Except that she knows the difference between her right and left. I left my cell phone behind—I didn't want to be bothered with it—and planned to be gone an hour, tops. Instead of the leisurely stroll I had envisioned, I kept walking in circles, unable to navigate my way out of the posh portion of the subdivision and back to the middle class section where my brother lives. Panic gurgled in my gut when I began noticing the same houses over and over.
As the sun started to set, I told myself I should knock on one of the heavy oak doors and ask for help, but I couldn't bring myself to do it. I was too embarrassed. Finally, I came upon a man and his daughter out for a walk, swallowed my pride, and told him I needed help. His daughter, about the same age as my niece, whispered to her dad, a kind man with an Indian accent, asking how had I gotten lost in the neighborhood? He told her it's easy to get turned around when all of the landmarks look the same. When I returned three hours after I'd left, my brother said he'd called me several times and was about to set out on a search.
In addition to my brother's subdivision, here are some places I've recently gotten lost:
On a hiking trail in Dayton, Ohio (where I was caught in a thunderstorm with my dog);
Along the Appalachian Trail in Tennessee;
Twice in Seattle—once looking for my hotel, and later, at 9:00 p.m., alone, on foot, searching for a restaurant;
Chicago, trying to navigate the Red Line train;
Minneapolis, the Skyway indoor walking path.
You'd think that I'd balk now at the thought getting lost and try to avoid situations in which that might happen, but losing myself has actually made me bolder. I've become more comfortable with it, though, I admit, not fully at home. Maybe the difference is that I now expect to get lost whenever I travel or hike—this mindset diminishes my anxiety when it inevitably happens. I realize that getting lost can be risky, but for me, the rewards for the risk far outweigh the dangers. I often feel small and weak in so many areas of my life that when I'm lost and find my way back to some familiar touchstone, my small kernel of courage grows another thin layer.
The same could be said for the writing life, or any artistic endeavor. So often in my writing I've stayed away from the margins and gutters of my deepest secrets, unwilling in my pride to admit my shortcomings and embarrassments. I haven't fully mined the riches of a lived life.
However, after a conversation with a new friend at a writer's conference, I began making the connection between being physically lost and being what I like to call "lost in my humanity." I was complaining to my friend that I was stuck trying to make sense of events within my memoir. Marilyn Bousquin, who, like me, graduated from Ashland University's MFA program, and who started a program called Writing Women's Lives, convinced me that I don't have to make sense of the details right now. That comes later. She counseled that the big picture often emerges within the details. For now, she said, let yourself get lost in the details and see what happens. In my pride, I haven't reached out to my writer friends, afraid to admit I've been lost—they never appear lost. After talking with Marilyn, I realize that being lost is often the best place to be. And not knowing my left from my right, while embarrassing, shouldn't keep me from asking for help in finding my way home again.

Jennifer Ochstein has published work with with Brevity, River Teeth Blog, Connotation Press, Hippocampus Magazine, The Lindenwood Review, Evening Street Review, and The Cresset. She gets lost all the time. Follow her at jenniferochstein.com.