Can you recall that weighted-release in high school or college when you finally submitted your close-reading of an esteemed author's work? Remember that one author whose words lingered in the recesses of your mind long after your class invested countless hours in discussion?
Now remember the moment those hours of critical thought finally returned to your hands. You skimmed your paper, searching for your professor's comments. One comment reads, "Don't forget to refer to the author's thoughts and intent in literary present tense!"
Those reminders in red ink prod us to value an author's words and works as timeless. They also push us to use present tense, beyond a literary context, enabling us to consider the author, him/herself, as timeless and in a sense ever-present.
In this seemingly spiritual consideration, an author is their words.
An author pens their traumas, consciousness of issues, ideals, passions and more on paper like a time-transcending mirror they use to show the future their past.
An author fights social confines, double standards and injustices to unveil their legacy through their work, acting as a type of metaphysical currency and payment to their readers. In short, an author's deep thoughts on their surroundings form the marrow of their written works, while the same marrow or spring of knowledge and experience serves as compensation to their readers.
The concept of maintaining a present tense when referencing an author's intent in their work is truly poetry at its finest due to the time-transcending relationship between author and reader. A piece of their consciousness is imparted to us.
Through such near-spiritual interpretation, literary present tense offers us the opportunity to carry on the views and consciousness an author sought to portray in their work, through our own consciousness and voice. Thus we readers are allotted not only the opportunity to retain a fragment of an author for ourselves, but a fragment of an author to share and pass on to others as well through our own active voice.
Naturally, as time progresses, thoughts and perspectives expand. The same is true for an aging and esteemed text: an author's work can only offer more with age and the seemingly infinite interpretations. Lines and passages that stand out to one individual might not for you or someone else, however another line of dialogue, poetry, or picturesque scene may reach out and seize you at your very core and resonate deep within you.
Individually, I might unpack a particular line or passage differently due to my own varied personal life experiences. You may interpret the same passage or line of poetry differently as well.
Such diverse interpretations, given life by varied experience, only add to the wealth of knowledge an author's work collectively offers. In a classroom setting, an open discussion for a reader is harvest time. A mass of planted truths within an author's work simply brought to light by varying life experiences. Our connections to an author are rooted in the text, we only need our passions and personal experiences to reel in something worth carrying and sharing.
Much like an author's creativity, we transcend what their specific work can offer.
Furthermore, some of what we readers interpret as significant in an author's work can and should go beyond the realm of established interpretation.
Don't doubt yourself if you truly feel you're on to something!
If you ever feel that your interpretation of a scene in a play, novel, or line from a poem doesn't sync with your classmates or other interpretations you'd find in articles online, remember these words from Tennessee Williams's play, Camino Real, "Make voyages! – Attempt them! – there's nothing else."
Through this sense, you the reader help to maintain an author as truly timeless. You're waking-life, but you're also awakening life: yourself, the lives around you, and the breadth of an author and their work, comparatively to the way an author roused you through words and what lingers in the recesses of your mind.
There is a transcendental back and forth, a dialogue between an author and yourself that exists. When you pick up that play, poem, or novel that comes to mind, you initiate this deep present tense transaction from author to reader.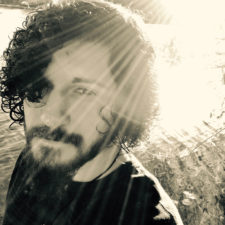 Stevie Ray Mulero graduated from Georgian Court University in May 2017 with a Bachelor's Degree in English Creative Writing. An avid reader of poetry, plays, novels and short stories, Steve intends to transcend the way we consider ourselves and others, life, loss and reality.