I fell for Eddie Izzard within the first few minutes of his 1999 stand-up comedy special Dress to Kill. It is appropriately named as Izzard looked wonderful in his pants suit and flawlessly done make up. And if his appearance wasn't enough to kill you, the laughter he caused should be.
On October 1, 2017, I was fortunate enough to score a 10th row center seat to his book tour for Believe Me. This book is a memoir of love, death, and jazz chickens—that's the subtitle, after all.
The book tour event featured readings from the book, a slide show presentation filled with still shots of baby Izzard up to the present day, videos, and of course, some stand up comedy. He ended with questions from the audience.
It was interesting to see Izzard this way, sharing his personal experiences: from the difficult death of his mother at a young age to life at a boarding school and finding gum to chew in bushes (saving one piece for as long as he could, because buying gum was too expensive for him). He recalled how he started as a street entertainer and how he is running marathons (27 marathons in 27 days).
I learned a lot about this man, more than I could ever gather from the jokes he tells on stage or the acting rolls he plays.
I have admired his wit and his message from the first moment I saw him perform Dress to Kill. One of the first things you'll notice about Izzard on screen or on stage is his clothing choice. In this 1999 standup special he spoke openly about his identity as a transvestite. He identified as a man while also enjoying wearing feminine clothing from a young age. During his book reading, he shared his first experience wearing women's clothing in public in his early 20s. He said he was scared, but he had found an LGBTQ group near where he was living. When he met with one of the members of group for lunch, he found the encouragement to go out in public dressed the way he wanted to dress.
According to Izzard, he now identifies as transgender, or a "lesbian kind of guy." He likes to dress in any kind of clothes, and just so happens to like women. He played a video of him getting his nails done while he talked about how people should just be people and love each other. He said, "I just happen to like women. It just happened that way." It's just that simple. People love who they love and are attracted to who they are attracted to.
During the book reading, he encouraged anyone who was nervous about coming out to reach out to others in their area for support. He shared his own strategy of being assertive to mitigate strangers' reaction to his gender presentation. To bring a little comedy into it, he acted out a scenario where strangers would give him off looks while he wore lipstick and heels. He'd respond with a loud, proud voice. Izzard would exclaim, "Nice weather we are having, but I hear rain next week." He calls it "aggressive politeness." He mimicked shocked looks but slow acceptance visible by facial expression and verbal acknowledgment on weather reports.
I was so impressed with Izzard that when I was able to meet him after the event, I hate to admit, I was an awe-struck fan. I took the opportunity to let him know outside the venue, where he was meeting fans, how beautiful he was. He's as lovely in person as he is on stage.
Then I blabbed, "And your quads are really nice." Which they are. I noticed it while watching the pictures from the marathons, and Eddie? You have really muscular thighs. It's a compliment from someone who just studied anatomy and physiology and became a massage therapist. He smiled, handed me my ticket he just signed for me, and walked away. He didn't call security, so that's a plus.
It was wonderful to support Eddie Izzard. He is a talented actor, a hilarious comedian, a beautiful face, and an all around nice person, who just happens to have very nice quadriceps.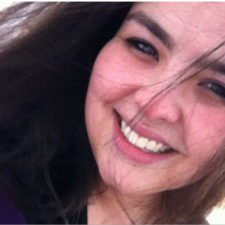 Megan Andreuzzi is an animal lover and a traveler from the New Jersey Shore. She earned a degree from Arcadia University in Glenside, Pennsylvania, USA in Liberal Studies with a dual concentration in writing and a minor in theater.