I traveled to New Orleans, LA from Newark, NJ during a rainstorm and worried the whole flight. Not so much about the turbulence in the air, but about the conference I was traveling for. I was to present and receive awards regarding urban youth projects I work on in New Jersey, and would have to wear formal and business wear. Would I look awkward, or uncomfortable, or worse still, phony?
Once on the ground, the strap of my purse broke and all my valuables spilled on the floor of the airport. The airline temporarily lost my baggage—my flat iron! The only way to tame the hair I hated! My black dress, my dress shoes. All the talismans that were supposed to make me appear confident and capable and mature. Lost. (And then, shortly after, found.)
And then: conference sessions, information overload, connections with colleagues, so many resources to bring back home to the job I love. The day's official schedule planned our time from 8 a.m. to about 5 p.m., then heavily suggested team-building excursions in the city.
At first, I went to all the tourist traps suggested. I did the things people told me to do. I got covered in powdered sugar from the beignets at Café Du Monde. I sipped a hurricane on Bourbon Street, and a daiquiri too. I hated them both; they were too sugary, but it wasn't enough to cover the strong pour of alcohol. Overdone on the alcohol, overdone on the syrup to mask it, and nothing gets masked. My gums stung and I winced as I sipped.
Bourbon Street left me cold. Look, I don't care if topless ladies stand on street corners wearing nothing but stilettos, all to entice visitors into strip clubs. Bodies are beautiful, however they come. Still, I tend not to give the reaction or outcome expected to strip club pageantry. I'm not titillated and I'm not offended or sanctimonious, no matter how many rhinestones are glued to how many nipples. I know I'm watching a performance, and I'm not that interested. It's fake. And cheap.
Throughout the week I started skipping conference sessions and the suggested recreational activities. Mostly, I walked. Through the French Quarter, to the open market, to the post-industrial open space of Crescent Park.
I found an antique store on Magazine Street that had vintage-y looking pocketbooks, and forked over the cash for a new purse. The cashier noticed that the handbag I'd found had a tag that read Genuine Leather, and laughed. "Who put that on a pleather purse?" he wondered. I keep the tag on, even though the bag is a fake.
Rumors spread between my colleagues that I was going rogue, exploring the city on my own. Other first-timers to the city wanted me to show them how to get to convenience stores that sold souvenirs, or less spicy Cajun cuisine, or some free outdoor jazz shows. (I never claimed to know where any of that stuff was, and I wasn't great at leading people to those things.)
My colleagues wanted to walk along the banks of the Mississippi River, free from docks or train tracks. There wasn't any space like that in the city proper that we could reach on foot. They insisted that the dockyards were creepy and unsafe. And not real natural space. (Though there are many paths through this area filled with joggers, part of official city parks.)
The conference ended and I hopped a cab to meet up with a recently-relocated friend for some live music at a bar. This must be real, I thought, starting out at a sea of young, white, hip residents of the city who were likely not born there.
But what is the "real" side of a place? I stayed 36 hours after the conference dismissed to couch surf among friends. I looked hard for the real face of this city, but only found more and more elaborate Mardi Gras crowns, gowns and masks. The masks were beautiful, though.
What would even have satisfied me? What is the face of real not fake New Orleans?
Is it neighborhoods of houses bearing FEMA's spray-painted markings for evacuations and inspections after the levies broke? Is it cockroaches scattering through bathroom cabinets in the 7th Ward? Is it the faces of children whose families have a hard time navigating the city's School Choice system?
New Orleans is a city that puts on masks for parades and carnivals. There's a sizable market for colorful wigs and lipsticks. Social circles make and break because of what parade Krewe you're on.
During my short stay, I talked to dozens of young people who live in New Orleans but didn't grow up here, who were transplanted or relocated. Sometimes to work. Mostly to play.
I met do-gooders who moved to areas devastated by Katrina to help rebuild. They physically restored houses, or now try to fix unequal education systems or gaps in social services. Does gutting a house and repainting an exterior address the inequality of the way the city was evacuated or served after the hurricane? Of course not. People spoke openly to me about the unequal distribution of wealth, property, access to education and more before the storm. Their goal hasn't been to rebuild to where NOLA was before Hurricane Katrina, but to re-envision the city, build it better, build it fairer, and to rebuild in collaboration with lifelong residents.
I think they'll do it. The optimism and imagination of the Crescent City is contagious. I drooled over purple mermaid hair in the wig shops; I left with two new outfits from "free stores." How easy to try on something new, to feel like a different version of myself. With so many opportunities for reinvention and play in New Orleans, it's a shame to waste time worrying what version of myself is real and what is fake. Or to get too wrapped up in judging the same of others.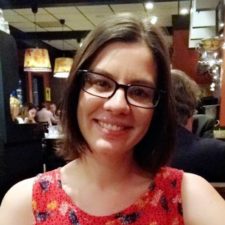 Laura Eppinger graduated from Marquette University in Milwaukee, Wisconsin, USA in 2008 with a degree in Journalism, and she's been writing creatively ever since. She the blog editor here at Newfound Journal.