In March 2016 I arrived in the Pico-Union neighborhood of Los Angeles with no context and no idea of how this city was laid out. (My fault; I did no research. Between grad school and work I hardly had the time to book a room, let alone look up things to do in the area. This is a familiar theme for me.)
A quick Google search would have told me on the first hit: Pico-Union is a densely populated, low-income, youthful, 85.4% Latino, mostly immigrant neighborhood in Central Los Angeles, California.
Walking around the neighborhood I immediately noticed that I stood out. I felt like I was back in Cape Town, South Africa, where I lived on and off for a few years.
I was marked by so much more than skin tone in Cape Town, and then again in LA. My precious thrift store sun dresses, thick-rimmed nerd glasses, short hair, way of walking, the angle I carried my purse, and a million other factors I am not self-aware enough to name were arrows pointing the word OUTSIDER at me.
Perhaps less significant, I lived without many creature comforts on the road that week as well.
I slept on a mattress on the floor in an off-the-books hostel. After check-in I had doubts about staying there, but learned just how inept the AirBnB Help Desk is. So I stuck it out, and was uncomfortable. And aware of my surroundings. Every yap of the tiny dogs next door, the baby crying in the room next to mine, the drafty windows all made strong impressions on me.
Throughout the week, I exhaled moisture and breathed in smog. The flop house AirBnB had no hot running water.
It was worth it, so worth it, to be able to attend AWP 2016.
In a panel called "There and Back Again: Writing from the Road," Kai Carlson-Wee spoke about the way traveling makes us pay attention, or makes us confront how strange and unfamiliar the world can be.
I felt this very strongly in LA, and would add that discomfort forces us to focus and look alive.
Every little detail of that week seemed so vivid at the time, and I was inspired to write it all down.
I left with the impression that every tenant in LA shares a poorly ventilated apartment with a lover who isn't on the lease, at least one small dog, and a colony of fruit flies.
I savored some surprisingly great European pastries throughout my time in LA, paired with crappy coffee. It's the Los Angeles water supply, I tell you. (Feel free to leave your jibes about my New Jersey residency in the comments; as long as I never have to drink LA water again, nothing can upset me!) I drank gallons of the stuff—this was a writers conference, after all.
I will remember my first AWP as a jittery, overstimulated newbie. Fascinated by everything, attending four panels in a row, wanting to ask every Book Fair attendee what they are reading right now. Constantly looking over my shoulder, staying alone in an area where I stood out. On edge, but paying attention.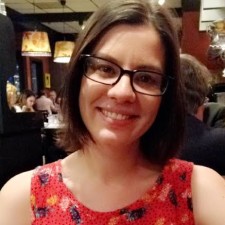 Laura Eppinger graduated from Marquette University in Milwaukee, Wisconsin, USA in 2008 with a degree in Journalism, and she's been writing creatively ever since. She the blog editor here at Newfound Journal.