We're both low on data, to start with.
We should have done research beforehand, about where to park my beat-up Mitsubishi or what's in the neighborhood, dinner and coffee-wise. Work has been crazy, it's always too crazy to do any planning ahead. Frankly it's a miracle we're both off on the same night. We'll roll with it. My sister and I travel well together, and tonight I convinced her to come to Philly with me to catch Helen Oyeyemi and Álvaro Enrigue at Central Library.
But we're both low on data and don't want to kill our remaining gigs with Google Maps. Also, we don't know Philadelphia well. We grew up 40 miles away, safely tucked into suburban New Jersey. As girls, we heard nothing kind about Philly. It was dirty, unsafe. In our 20s we've been exploring Philadelphia, neighborhood by neighborhood, discovering new delights every visit. Why did they hide this city from us? We need to make up for lost time.
First stop: a hip diner for meatloaf and cheesesteak. Being alive makes us hungry, we wake up hungry every morning, 16-hour workdays in middle management make us hungry. We power through with coffee coffee coffee cream sugar and Diet Coke. But now, we feast.
Sated, we walk in circles without a map. Did YOU know the Benjamin Franklin Parkway cuts diagonally through the neat city blocks in this area? We keep crossing over 676, why is there a highway in the middle of a city, by all of these museums? Wait, you can just WALK through Logan Square?
We duck into a Whole Foods—a Whole Foods! In a city center! We're used to seeing them in strip malls that are so out of our way we never bother to make the trip. But now, we can just breeze through the Bakery, find a snack for later.
Cutting through the cupcakes is the most gorgeous human man we have ever seen. We're both a little awe-struck—can he be real? We should find him again, peek in his shopping cart. Could this dark-haired Adonis in a tailored suit actually eat human food? Instead we find a box of soft, chocolate-dipped cookies and stumble back into the street.
We should have made it to the reading on time. Early, even. But we are mixed up, heading in the wrong direction. We cross intersections at the STOP signal, running, running, always running.
We make it to the basement of the Free Library of Philadelphia halfway through the event, just as it's being opened up for audience Q&A. Sensual commentary on history, imagery, and the mechanics of a novel pour out of Álvaro Enrigue while we search for seats in the back of the room. And while my sister gets up to the find the restroom. And the entire time she's gone. And when she ges back.
When she gets the chance, Oyeyemi is soft-spoken and deep-thinking. Maybe a little uncomfortable to be on stage. Maybe a little more than uncomfortable at the questions she's asked by the crowd. They want to compare her to other authors, and hear her compare her own work to Zadie Smith or Angela Carter. They want her to give an academic lecture on race as a construct in British literature, then compare it with race as a construct in American literature.
Oyeyemi passes on the question. Says she cannot understand what is being asked of her.
Enrigue effuses some more. His cup runneth over. His mouth runs, and runs and runs. It's not unpleasant! He talks about the mastery of Oyeyemi's plot work. Stories interconnected by symbols like skeleton keys; one door opens to another door, another door.
I feel like Borges is reading me a bedtime story. (No one in the audience asks Enrigue to compare his work to Borges.)
Oyeyemi wants to talk about fairy tales. Her favorite, she tells us, is Sleeping Beauty. She wants to explore the notion of a power inside one girl to suspend time for the whole world.
I want to hear more about the power inside one girl—I don't know, how about the power to write a novel that blows me away, and doesn't have to justify its existence with an impromptu PhD defense of racial constructs in all of English-language literature?
The mic is passed throughout the audience. Oyeyemi is asked, again, about racial constructs in her work. And racial constructs in all of post-colonial literature. She again falters, doesn't know how to answer.
The event ends and we don't really know what to think. It's a lot to process. We also have no idea how to get back to the parking deck where we left the car. But we maybe know how to get to that artisanal cookie shop.
In line behind us, a woman of our grandparents' generation asks us if we understand the menu. Do we have to get a half dozen cookies? She just wants one. We admit: We don't know, this is our first time here. The lady says if she can only buy a dozen, she will steal one and run away. My sister and I agree to cause a distraction. (Turns out you can buy them individually.)
Every time my sister and I go into Philadelphia together, we get comments from women our parents' age, or a little older. These women tell us we're lucky we get along so well. They advise us to enjoy each other's company. And we do, we do.
The night is over and I can say: I saw Helen Oyeyemi speak for 28 minutes and it was worth it, because it made me see once again how radical it is for many people to believe that there is power enough in one woman or girl to change, or even make their own path through, the world.
My sister and I make it through the world. Without turning on Google navigation even though we must be close to that Wawa by now and goddammit the cigarettes are all gone, a 7-11 would work, too.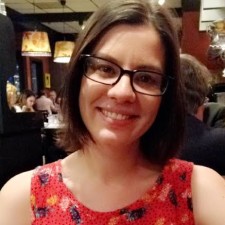 Laura Eppinger graduated from Marquette University in Milwaukee, Wisconsin, USA in 2008 with a degree in Journalism, and she's been writing creatively ever since. She the blog editor here at Newfound Journal.