Image credit: Shravan Krishnan.
In a recent interview with SG Magazine, Malaysian writer and resident of Singapore, Tash Aw, criticized Singapore's lack of literary culture. Calling out the country's educational system, Aw says, "the whole thing about writing requires you to question stuff in general. Not necessarily political things, but from a personal point of view. It needs you to question stuff that's going on inside yourself. Very basic things, like family. That's not something the Singaporean educational system encourages." Aw goes on to point out the Singaporean peoples' general disregard for literature and self-history, their emphasis on work and social standing, as well as other cultural ideas.
In defense of his country, though, Aw offers this: "I think Singapore is very creative, with great film-makers and visual artists. Literature is the one thing that's lagging behind. The Great Singapore Novel isn't going to happen for a long time, because to have any novel, let alone a great one, you need to be able to draw upon reserves of experience. If you're going to rely on that post-'65 narrative, then Singapore is a young country. Somewhere like Britain has had hundreds of years."
Singapore's literary culture is however, budding. Cyril Wong, Simon Tay, Su-Chen Christine Lim, Alvin Pang, and Grace Chia, among others, are at the forefront of Singaporean literature in English, pushing against cultural friction since independence in 1965. Small presses such as Math Paper Press and Ethos Books are iconic in the Singaporean literary landscape. Tiong Bahru, Jalan Besar, Alexandra, and Keong Saik are emerging neighborhoods—with independent bookstores—attracting young artists.
At the foundation of this emerging literary scene is Singapore's library system. Twenty-six libraries and national archives dot the island. All libraries include collections in all four national languages—English, Tamil, Chinese and Malay. The flagship of the system is the National Library, a sixteen-story tower in the central business district, between the bustling markets of Bugis and the quiet museums of Bras Basah.
The National Library was established in 1844 to educate the local populace. The present-day building was founded in 1960 and expanded outward and upward. It is, in fact, two libraries in one: the Central Public Library beginning in the basement with general reading stacks, and the Lee Kong Chian Reference Library from the seventh to the thirteenth floors.
Other libraries in Singapore's system of libraries have a similar environment to libraries in the United States. The National Library, however, stands out. The place embodies what defines a public space, integrating the natural and built environment with vaulted ceilings in reading rooms and cozy crannies in courtyards. Patrons sit in the bamboo garden, flipping pages of The Straits Times. They take naps on the sofas in the Central Library. They chitchat in the plaza in front of the library. They study in the expansive ends of the reference library on the seventh through ninth floors, trying to not be distracted by skyline adorned in pastels made alive by the blue sky. They sit on the floor next to elevator doors, creating their own private space. They walk through, around and about installations made by various local artists, attempting to decipher meaning.
The National Library also includes a theater, in which local playwrights showcase their work, and exhibitions examining national history (on one floor, a central space was devoted to the history of literature in Singapore). All in all, the library itself is a cultural and social hub for all Singaporeans.
Singapore thrives in its rigidity—45-hour work weeks, projects finished ahead of schedule—its people are a work-centric people. The country's first—and arguably most influential—Prime Minister, Lee Kwan Yew, once said, "poetry is a luxury we cannot afford." The National Library is an oasis as a free-flowing space that bends the rules of purpose and definition. It is the cultural backbone that can lead to the creation of "the Great Singapore Novel" in due time.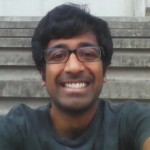 Ravi Venkataraman is a Peace Corps Volunteer in Chengdu, China and serves on the editorial board of MaLa: The China Bookworm Literary Journal. When he isn't teaching, playing ultimate frisbee or binge-watching TV shows, he writes fiction and poetry. His work was previously featured in That Lit Site and Papercuts, and is forthcoming in Journal of Microliterature.