Olivia Cronk is one of two finalists for Newfound's 2014 Gloria E. Anzaldúa Poetry Prize. Her sublime imagery, irreverence and precision of language struck the panelists and the judge. Coupled with her unique perspective on poetry, she is one to watch, if not to get to know. Look for her poetry in our print issue.
REGGIE CARLISE: Tell me about yourself.
OLIVIA CRONK: I live on the north side of Chicago, where I also teach writing at a small commuter university, Northeastern Illinois University. I teach both Introductory Compositio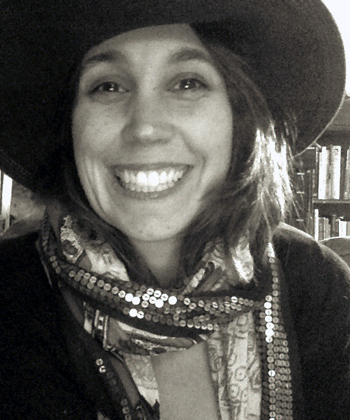 n and upper level Poetry Writing courses, so my artistic and professional selves are at once in competition with one another and deeply entangled.
My first book, Skin Horse (Action Books, 2012), came out of the time of my early teaching life (adjunct work at sometimes three schools at once—this is likely a familiar routine to many Newfound readers) and those poems were an extreme examination of the domestic, often in the flavor of B Horror films, Vincent Price, Giallo, David Lynch, Clara Rockmore. I think those were very, very interior in part because I had such a hectic work life.
And now, my labor situation is a little smoother (or, rather: as smooth as might be expected in the fucked up economy of academic jobs), but I have a small child, and somehow I find myself writing only in long-form (it's easier to simply "drop in" on a fresh page of an ongoing document)—I only want to work on manuscripts, not on discrete poems. My submission to Newfound's chapbook contest is from a long poem, "Middle Mansion," which is about genre, the Fantasy genre, fantasy, (the self inside of the place of) memory, fashion, early adulthood, and apocalyptic settings.
Those things are very thrilling things to me right now, and my writing-things are informing my teaching and even my parenting, to some extent. I believe in genre-contamination. I believe in filth and disgust and poor taste and aesthetic excess—and the delightful "good taste" that emerges in such an accumulation. I believe in the tender overlay of a thick imaginative life upon a real one that takes place in this particular moment of this particular apocalypse.
CARLISLE: Why poetry?
CRONK: I write poetry because it is the form my writing most often takes.
Obviously, I love poetry—as a set of lineages/historical forces; as a contemporary practice; as a hazy, wilting notion hanging over my physical life; as a sort of anachronistic position; as an ideological position—but, also, I listen to others,
like Philip Sorenson:
"You aren't really people . . .."
and Andrea Rexilius:
"Poems are ghostly semblances that materialize before our eyes or in our
imaginations."
and Daniel Borzutzky:
"Poetry. What the fuck? . . . [W]hat I want is to have the bloody inferno that
the world is exposed to me in no uncertain terms . . .."
CARLISLE: What inspires you?
CRONK: I don't really believe in the conventional, writerly notion of "inspiration;" honestly, the word evokes, for me, a ridiculous and small-minded idea of how writers work.
I write in response to and in the service of texts of all media/genre/brow, in relation to textuality, and because of my need to contextually, subtextually, and metatextually comment on such. I try to steal tricks from writers I like. I try to steal mood from much film, television, and pulp. I try to generate content by having an active brain and an interesting diet of texts.
I write to create junk drawers for any possible and all known readers.
CARLISLE: How do you approach the content?
CRONK: I approach content by seeing what I have, once something is actually there. I figure out what the piece is doing/about after a little of it exists.
I often have a project in mind as a backdrop, but I have to see what comes out.
I commit myself to writing occasions (these happen somewhat sporadically though with ritualistic components), during which I hope for a good chunk of material.
Because I oppose the tyranny of literalism, I privilege the reader's experience of the text: it is my desire to collaborate with my reader.
CARLISLE: What about form?
CRONK: Form can suggest to the reader the level of openness.
It can awaken the sleeper.
It can contain the reader in a safe gesture.
It can be a metatext.
It can be a script.
I'm not particularly interested in Form, though I am interested in creating pleasing and breathable structures—and also suffocating ones.
CARLISLE: What would you ask if you were the interviewer?
CRONK: I would ask:
Do Virginia Woolf's claim about the Middle Brow and Curtis White's subsequent argument against Middle Mind still seem relevant? And how do we aim ourselves toward an artistic anti-Middle?
What invisible face does your writing wear?
What relationship exists between The Psychedelic Experience (however and through whatever media a respondent has pursued such) and teenage television melodramas?

Reggie Carlisle finished his BA in Creative Writing at Weber State University in 2014. His first published story was in the Fall 2013 Mixitini Matrix. He currently resides in Utah with his wife and five daughters.