We were blown away this year by the work that poets from all over submitted to our annual Gloria E. Anzaldúa Poetry Prize. Critical awareness, passion, and empathy were the common threads uniting these chapbooks, which we believe attests to the importance of Anzaldúa's work and the work we aspire to here at Newfound.
So, without further ado, the winner of the $500 honorarium and 25 printed copies goes to … Rodney Gomez! His chapbook, "Spine," will be available next spring and on sale through our web store, as well as at our booth at this year's AWP conference (Table #1125!).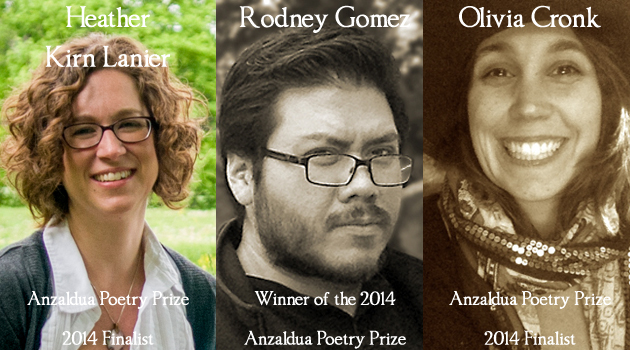 Our two finalists this year are Heather Kirn Lanier for her chapbook, "Heart-Shaped Bed in Hiroshima," and Olivia Cronk for her chapbook, "Middle Mansion." Poems from both writers appear in our first annual print edition, "Newfound | Print no. 1," on sale now.
Curious to know more about our winner and finalists? Interviews with all three poets will appear in our blog throughout December and early January.
To all other submitters: Newfound's Managing Editor will attach personalized messages to all entries. You should receive that before January 1st.
THANK YOU to everyone who submitted and spread the word. We've tried to make as many great things happen as possible for our winners this year and hope to do more next year. Do keep an eye on the contest page as we prepare for our next launch on April 15th, 2015. We hope to see you there.