Feb 07
We're proud of our chapbooks. Each is the result of collaboration between the author, designer and the press. Quality papers, original design, hand binding and of course knockout content are our markers of excellence.
Today I want to share our process of making chapbooks that approach novella-length page counts, which we make for winners of our Newfound Prose Prize. Whether you're a curious writer or a budding press, I hope you enjoy this look into our work.

Challenges
A prose chapbook presents immediate challenges. To bind 40-70 pages—double the size of our poetry standard—folding and stitching the pages would appear bulky and amateurish. To even consider hand-binding a work of that volume is a little nuts. Additionally, we need to publish titles in runs of 100 or 200. So, performing an elaborate binding method isn't reasonable time-wise. Exactly for these reasons, presses send books out to be perfect bound. We stubbornly resisted the idea of a mass market look. Thankfully, after we brainstormed and did some R&D, a solution was born.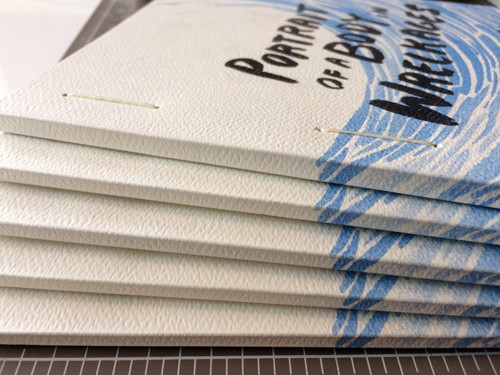 Our prose chapbooks include a spine to keep them prose-y. We also went with simple stab stitch to keep the spine its principal design element.
We decided on a Japanese stab stitch method for binding. Which is all well and good until you consider how you're going to put holes through a stack of paper quickly and perfectly aligned.
We fooled with drill methods recommended by various presses. We found drilling paper to be a messy process. The paper bunches, adding to the thickness, and we couldn't make accurate or quick holes.
The solution? A needles press, or what Winking Cat calls a "home-made version of the old Rossback Piercer machine." It doesn't punch out paper, but slices through a surprising amount of pages in an effortless pull of the lever.
So, step one of making a prose chapbook is…

1) Build a Needle Press
What you will need:
Arbor press: PHASE II Heavy-Duty Bench Top Arbor Press, 1/2 Ton

Needle: Organ titanium 7X3 794 DYX3 industrial sewing needles (140/22)

Bit: Quick Change Chuck For Dremel 4486 multi-function tool-9/32-40 grinder

Base: Cork, wood, or any surface you feel comfortable working on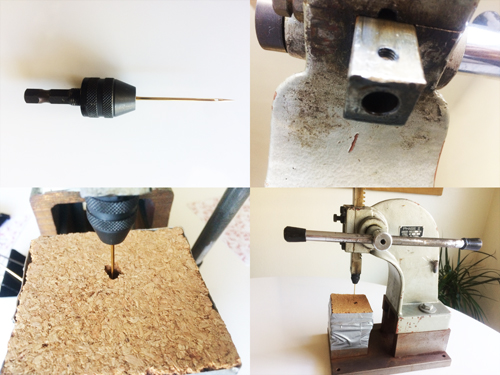 The entire machine cost us ~$70 to build, including shipping. Be sure to find an arbor press that already has a hole drilled in the ram (the thing that goes up and down). Otherwise, you'll need to go to a shop that can bore the hole for you. The rest is easy to assemble. The raised base upon which you do your punching should have a hole in the center to keep the needle running cleanly through your paper, so as not to dull the point. Ours is cheaply made out of stacked cork board and some very classy duct tape.
Questions? Comment below.
2) Punch Interior
What you will need:
Two binder clips

Hole guide

Chapbook interior pages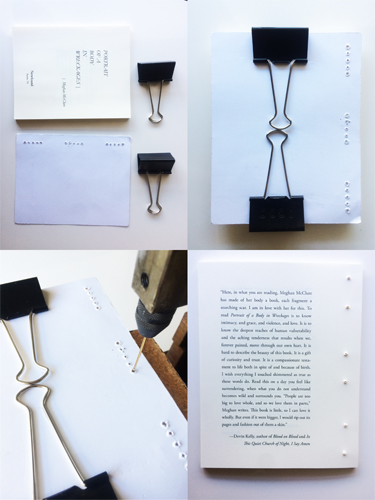 Punching holes is easy on the needle press. Simply binder clip your hole guide onto your interior pages and punch. The extra thick sewing needle makes a hole big enough to pass 4-ply linen thread twice through.
Make the reusable hole guide on a piece of card stock that fits the size of your chapbook. You'll reuse the same guide for punching the cover holes.

3) Score & Punch Covers
What you will need:
Chapbook covers

Hole guide

Japanese screw punch

Scorer: See below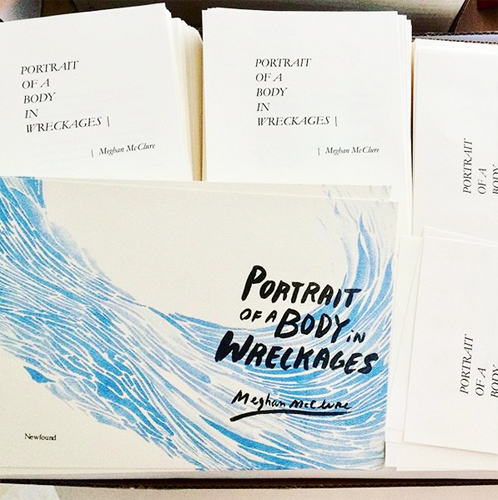 Hand-made books are amazing because of the range of inks, papers and designs at your disposal to make the physical book as special as the content. We've used various printers and printing methods for covers, including screen printing, color laser, letterpress, and risograph. There are positives and negatives to each method, but really the decision will come down to budget and what best suits the design. Whatever method you use, once the covers are cut to fit the book's dimensions, they must be scored, creased and punched.
Cover stock needs to be scored to ensure a clean crease without cracking. For poetry chapbooks, an easy one crease can be run quickly with a bone folder and ruler on a cutting mat. For the prose chapbook with a spine, however, each cover needs to scores.
If attempting to score 100+ covers by hand accurately is a feat beyond your patience, there are easier solutions. For our first prose chapbook, we worked with a local printer to score the covers. Recently, we purchased a manual scoring machine (MBM GoCrease 3000) to do the work in-house. You can score hundreds of covers with a manual scorer in no time. Just set your guides and go. Electric scoring machines are much pricier, but faster.
Next, if you're binding with a stab-stitch, you'll need to punch holes in your covers with your guide and a screw punch tool. We use the AITOH screw punch with a 1 mm bit. I don't recommend using the needle press on the covers. You want your covers to look as slick as possible, and the needle press will leave them pretty jagged.

4) Bind
What you will need: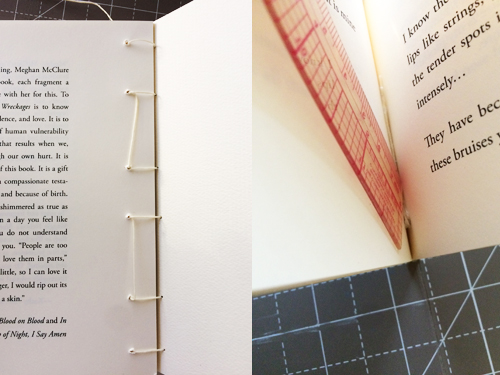 Once you've got your holes punched through interiors and covers, it's time to bind. Binding is the most labor intensive part of the bookmaking process, but it's also the most fun.
There are numerous ways to thread your pages together. For our prose chapbooks, we use a single, 28 inch length of the linen thread. Due to the spine, we didn't want any thread to wrap around the cover, as in many typical Japanese stab stitch designs. We came up with a minimal design of three arches, what we're calling our Newfound signature binding. Though simple on the outside, the thread lattices the interior quite a bit for integrity. Once double knotted in the center bottom of the book, the thread ends are clipped to 1 inch and tucked down into the spine with the ruler or dull blade.
Whatever your style, aim for structural integrity and aesthetic in line and color.

5) Trim & Finish
What you will need: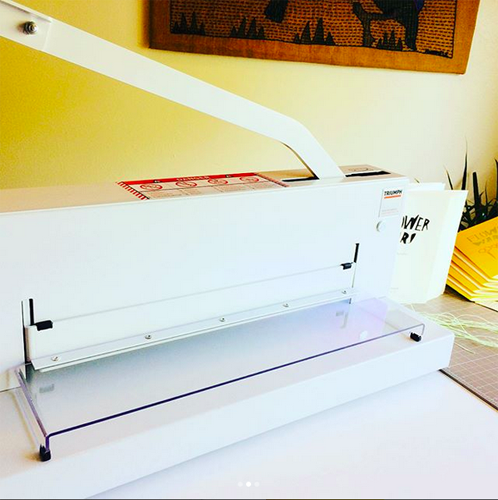 Last but not least, you'll likely have to clean your edges with trimming. We use a Triumph MBM 4300 stack cutter. It's nearly impossible to punch and bind the chapbook to an exact fit within the cover, so cleaning the edges allows you to create beautiful books without the pressure of needing to be a chapbook god.

Questions?
Have a question about our prose chapbooks, gear, or process? Comment here or write us anytime at info [at] newfound [dot] org. We are happy to give back to the literary community that has been so kind to us.

Want to see your prose work in a beautiful chapbook edition? See our Newfound Prose Prize guidelines.
Thank you again for supporting our efforts to bring important books into the world.