I have a few guilty pleasures. I'm a woman who loves her ice cream, french fries, and soap operas. For a long time, I watched four. This meant four and a half hours of television shows to catch up on after school a day. Nowadays, the demand for soaps have changed and my four dwindled down to one.
I truly believe it is an art form that is dying for the wrong reasons.
Soaps started on radio as serial dramas then moved to television, intentionally being slow moving and repetitive for those who stayed at home doing housework. The storylines were easily followed sp housework could be completed, and since the major sponsors were manufacturers like Lever, Colgate, Palmolvie and Procter & Gamble, the nickname "soap opera" was born.
They have a bad reputation, though. In today's fast-paced society, slow moving television is turning into a thing of the past. Daytime dramas turned into faster moving evening dramas. Satires depict soap operas as unoriginal, predictable, and cheesy. If you really think about it, soaps helped shape the art in evening drama.
And that art in daytime drama is certainly still there. I feel the art is under-appreciated.
I watch "General Hospital." There's history in the characters that have taken 20 years to develop. I grew up with the children on the show, watched them fall in love and have their hearts broken, and even lived with them as their parents divorced and remarry three times. I am not sure what I would do if I couldn't keep watching these characters grow!
As an art, there are so many things that go into soap operas. The outfits, make-up, and hair are always spot on. Characters yell, cry, and slap each other, but their hair never is a mess. The set design allows for beautiful scenery, comfortable houses, a dream come true.
As a writer, I am obsessed with the writing. I've been known to yell EMMY EMMY EMMY!, after hearing fantastic monologues. I know that the words are brought to life by the actors and actresses. I didn't just yell Emmy! because of the masterful, talented, and clever writing. I yelled it for the masterful, talented, and clever actors and actresses portraying the words and bringing them to life.
Aside from the art, I also realized how the dramas bring people, real people, together. I often have conversations with family members, coworkers, and friends about the show. I love getting random messages like "Are you caught up on 'General Hospital?' I need to talk about what happened!" I also love meeting people who haven't seen it in a while and they ask questions about story lines and are happy in saying, "I'm glad some things never change."
Soap operas hold a place in a lot of our hearts. They bring people together. And they certainly still hold talented artists, from set design to writers to actors and actresses. It's an art form I will always show support for!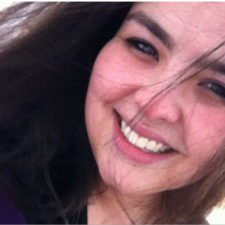 Megan Andreuzzi is an animal lover and a traveler from the New Jersey Shore. She earned a degree from Arcadia University in Glenside, Pennsylvania, USA in Liberal Studies with a dual concentration in writing and a minor in theater.