"The Former Lives of Saints" is a collection of poetry from Damian Rucci and Ezhno Martin. Rucci is a New Jersey native and hosts the monthly poetry event in the Jersey Shore town of Keyport called Poetry in the Port. He met Martin in Missouri while on a reading tour; Martin still lives there today. Their collaboration on this collection soon followed. The release party for "The Former Lives of Saints" was hosted in Keyport on June 8, 2017.
"The Former Lives of Saints" is a powerful title. Any Catholic school alum can tell you that some saints were not always so saintly. In life, saints had rocky pasts, or could be mean or spoiled. This is what makes them relatable: sometimes, we all do not-so-saintly things. Saints become saints because they found good. They found themselves. They found the way. They found the art and beauty. They found God. They began to share their love, compassion, and wisdom. Still, saints were still human and made mistakes.
This title is apt because these two artists have rocky pasts, too. Martin discusses sex and cross-dressing in great detail. Rucci has already had a chapbook published, "Tweet and Other Poems," including the lines:
"I jerked off at a church once
not in a church, no
I'm a gentleman. I was outside"
The poems in this collection began as spoken word but translate well to the page. A post-post-modern poetry professor (who was in love with Allen Ginsberg) once told me: Write what's in front of your nose. That bit of advice occurred to me often as I read this collection.
Rucci and Martin put their observations and experiences into words without hesitation, holding nothing back. They share parts of their lives, and experiences with others, occasionally even referencing the Catholic saints they took Confirmation names in honor of.
I have seen Rucci perform countless times. He is a man with a booming voice and an interesting yet wisened concept of reality. He has the ability to capture the audience's attention in an instant and captivate them with the language he uses. I can hear him read out loud as I read some of his pieces. Rucci has the uncanny ability to make the everyday life into works of relatable art.
Rucci's poem entitled "Sons of Twilight," about working overnight for a grocery store, does just that. It is short, sweet, and skips any flowery language. It shines a light on the necessary, everyday art right in front of our noses:
"I am a third shift worker
I am a nine digit punch code"
If that doesn't hit every person who works for a living right in the feelings, I don't know what will. He ends it with a bit of hope by suggesting that his job, and those like it, are important because how else would the masses get foods or treats easily without the sons of twilight?
Rucci's piece "Ken Quit Rock n' Roll" tackles the concept of giving up a passion or dream to fulfill a goal or duty. Ken gave up playing guitar for the wife, kids, and a steady paycheck. Maybe you've done the same.
Martin brings us everyday art through lines scattering on the page, the occasional flowery language, and some foul language (I am all about potty mouths).
Martin's "I Guess I'll Never Learn," chronicles things he did while on the job, including masturbating in the supply closet, stealing from the cash drawer and wearing dreadlocks.
"Shining Time Space Station" evokes companionship. Here, Martin has fun playing with language, and imagery, leading readers through suicidal thoughts, mania, and tin foil hats. There is also a strong sense of solace here:
"the magical thinking of mania is… no one can tell us we can't ride
sunflowers into the sky
where we are always safe"
Other highlights of this collection include Rucci's "I knew Superman" about his late grandfather. "Liberated (Lady-Clothes)" is a Martin's beautiful and realistic poem with a side of sass and sarcasm, also present in his "Get Over It." Even Martin's depiction of their confirmation saint is irreverent.
"The Former Lives of Saints" by Damian Rucci and Ezhno Martin features modern poetry, written by modern people.
You can also catch them reading poetry live often and through out the United States this summer:
Ezhno Martin:
Every Wednesday for Poetic Underground Open Mic at The Uptown Arts Bar in Kansas City, MO
Every Third Sunday and Second Thursday Open Mic at Steels Used Books in Kansas City, MO
7/8- Poetry and Soundscapes with Psychic Privates in Kansas City, MO
8/4 through 8/06- A sidewalk open mic at the Underground Lit Fest In Michigan City, Indiana
8/26- Kansas City Zine Con August 26th in Kansas City, MO
Damian Rucci
Every First and Third Thursday for Poetry in the Port at Espresso Joe's in Keyport, NJ at 7 p.m.
7/1- River Reads in Red Bank, NJ
7/2- Unicorn Theatre in Catasauqua, PA
7/28- Blazing Star Cultural Arts Center in Carteret, NJ at 7 p.m.
8/21- The Park Side Lounge in NYC, NY
8/24 – The Barron Arts Center in Woodbridge, NJ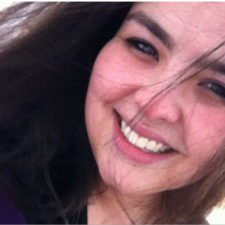 Megan Andreuzzi is an animal lover and a traveler from the New Jersey Shore. She earned a degree from Arcadia University in Glenside, Pennsylvania, USA in Liberal Studies with a dual concentration in writing and a minor in theater.