Today marks the day that Brielle is a month and a day old.
Who might Brielle be? Well, she's my niece.
She won't be the first person to call me "Aunt Megan." She is, however, the firstborn of my only sibling. This was an exciting moment for our family. She is my parents' first human grandchild. (Keyword human. I am the provider of the fur grand-babies.)
I was always told a baby changes everything. I never quite believed it; I'm not all warm and fuzzy when it comes to young children. I'm only warm and fuzzy when it comes to pets, especially dogs.
But then I held that new born baby…
I melted. I blush while saying that because six days out of seven, I don't melt. Then I hold a newborn, and I melt.
This child. This human child. This head that is so precious, so soft, so little in the palm of your hand. And I'm gone. I temporarily float away to this place where flashes of things from my past, present, and future collide while anxieties are put on hold for even just a few mere seconds. Where I am caught between not being able to wait to watch this babe grow and not wanting time to slip on by. Where I resent casual conversation, small talk, and every day writing; how can I care about the weather when I have this beautiful baby in my arms?
Reactions to babies are interesting. Some might have gibberish fall out of their mouths. Maybe your voice changes pitch or drops to a whisper. Maybe you move those little hands and little feet so they open their eyes to maybe look at you or just simply look around to show you their beautiful, little eyes. Even for just one second. Even if they were sleeping. Even if the parent/guardians glare at you for trying to wake them up, like my brother and sister-in-law have. And I am pretty sure we all take a big, long wiff of that baby head, just to bask in the new baby smell. We give kisses in between stolen smells.
Fun fact: Brielle swatted at Aunt Megan when Aunt Megan did that.
I can tell you that this little girl was showered with love and gifts before she even had a name. I even learned to crochet so I could make her a blanket. She changed all of our lives without lifting a finger.
I cannot wait for late night ice cream trips, sugar loaded visits with Aunt Megan. (I think these will be visits,  not sleep overs.) I cannot wait for gifts of paints and easels, Play-Doh, art sets. I cannot wait for musical toys. Will Brielle be a star drummer girl? With Aunt Megan's help, sure.
A baby can change everything. They can bring smiles, hopes, aspirations, motivation, inspiration. If I had a dollar for every time I heard that my writing will change, especially with the birth of Brielle, I wouldn't have to work too hard.
But it's true. I was a part of a Haiku a day poetry challenge for National Poetry Writing Month in April. All my Haikus were about Brielle the day she was born and after.
But it was true. My writing has changed. And my life is changing.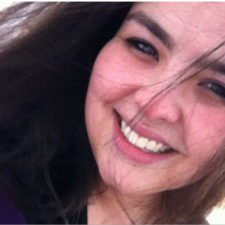 Megan Andreuzzi is an animal lover and a traveler from the New Jersey Shore. She earned a degree from Arcadia University in Glenside, Pennsylvania, USA in Liberal Studies with a dual concentration in writing and a minor in theater.