The reverence and lyricism of devorah major's poetry collection "and then we became" (City Lights, November 2015) is a gift to all readers as we move into the darkest days of the year.
I picked up an early copy of this collection at City Lights Bookstore in San Francisco, so it was a special treat for me to be able to match my own experiences with these sights and sounds with the scenes from the poem "brown lady in white"
i have seen her
scurrying down mission street
gusting through tenderloin
pushing past crowds on market
And yet, most of the poems in this collection question the nature of humanity, its potential for good and its capacity for evil. You don't need to visit San Francisco to engage with those questions. They belong to every human being.
major's language is lush and descriptive, and the choice to eschew all punctuation and capitalization of proper nouns reinforces the notion that all time is now, that all concepts bleed into one. Nearly every line of "and then we became" evokes oneness, the infinite.
The 76-page collection is broken up into four sections, guiding the reader on a journey when taken as a whole: "and then we became spirit," to "and then we became other selves," to "and then we became fragile" to, finally, "and then we became whole." This is a pilgrimage from oneness with creation, to a wounded humanity, to attempts at healing, and finally, an ecstatic homecoming with the infinite once more.
The collection opens with "cosmology meditation #1," which captures in poetry the human ability to wonder at the cosmos. Here we are in the "spirit" section, the foundation of this work expressed as a breathless expression of awe at the existence of our world.
that place existing as the perfect note
yet making no sound
holding all colors inside a light
that was nothing but darkness
From there, readers are led to "nommo—how we came to speak," which draws its title and theme from Malian cosmology, exploring the power of the spoken word to create. Human language is named as a "gift" in this poem, but is not always a force for good.
how we mangle
this tongue that needs
unending translation
we require it to be
a constantly changing chameleon
a hypnotist, a con man, a cheat
Language allows us to dissemble or betray—a great power, and one that demands caution.
These dark forces are ever-present in the "other selves" section of this collection, which zooms in from a view of all creation to consider fraught person-to-person relations. From a violent encounter between a man and his daughter ("the judge") to the presence of a spectral older woman who represents racist standards of beauty and purity by cloaking herself in the color white ("brown lady in white"), individual humans are presented as messy and lost.
The interplay between gender, religion and culture in "amina's trail" is masterfully done, yet the sentiment of the poem is still devastating. The power of language is revisited, but this time to confront the brutality of colonialism, in "history of the canary island whistlers."
From here, the journey takes readers to the section "fragile," where poems like "mother to mother" use sparse language to convey stories of trauma and abuse.
And yet, this section maintains a global scope. Readers delve into the hidden pain of a US veteran in "war memories," the perspective of "makmoud of gaza," and an account from "haiti photographer."
From this devastation and pain, the collection rises to conclude with "whole." The first poem in the final section, "yoruba woman," takes on the daunting task of addressing a slave ancestor, from the present time:
but i am glad to be this me
born in america
carib, irish, slavic, jew born
african woman that i be
this is not to say
that i am glad you were stolen
or celebrate the way you
were torn from your bloodline
stripped of your legacy
betrayed
…
but the me that is
that weaves these strands
that finds me free
and headstrong
the loudmouth me
wide hipped frizzy hair
soft belly me
who has found a home
inside this peanut skin
would not be here
without your crossing
Once again, the power of human language is named, this time as a pathway to wholeness. Both "delphi oracle" and "love chant" describe the process of writing poetry, as an expression of belonging and a victory of the self.
The collection comes full-circle by closing with "cosmology meditation #2," where once again creation and eternity are presented as sublime:
our universe
the cosmologist said
is creating itself
a quick-bread batter sky
making interstellar spaces
between raisin-sweet galaxies
Ultimately, the poem suggests that we expand our beings at the same rate the universe expands.
This means we are always becoming.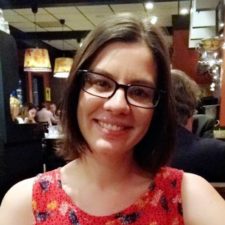 Laura Eppinger graduated from Marquette University in Milwaukee, Wisconsin, USA in 2008 with a degree in Journalism, and she's been writing creatively ever since. She the blog editor here at Newfound Journal.
[medium_cross_link url="https://medium.com/@lola_epp/devorah-majors-and-then-we-became-is-a-pilgrimage-to-the-infinite-e037225d45f8"]