If you're looking to be kept awake all night by a short fiction collection that will consume you like a fever dream, may I recommend Heartbreaker: Stories by Maryse Meijer, out from Farrar, Straus and Giroux in July 2016.
The bare bones prose will beckon you to read quickly, but you do so at your own peril. Meijer's characters and the actions they take are consistently disturbing.
She started out a tiny, blue, skinny flame flashing into the world with a hungry little sizzle. I gazed at her as she twisted between my thumb and forefinger, not knowing then what she would be like, if she would love me, or if I would love her—I didn't even know if she would be a she.
Thus begins the short story "The Fire." This paragraph is an introduction to a special kind of arsonist, one who believes the fires he starts are his lovers. Of course tension and high stakes and ticking clocks plague a protagonist like this—but would you believe the biggest showdown is between our narrator and a fellow smitten firebug?
In each short story in this collection, characters live on the edge and transgress social norms, often paying steep consequences. Though Meijer induces our empathy for each lost character, the consequences (if they do come) may come as a relief. As a reader, it's dizzying to be immersed in a narrator's mania for too long. The lack of boundaries or repercussions is an uncomfortable thread through most of the stories.
"Love, Lucy" cloys long after its close. Here a "feral" (actually, sociopathic) young girl comes of age while her behavior escalates in violence. As a writer, I am intrigued whenever there is no redemption narrative for a young girl. Lucy feels no guilt and is never swayed by promises of acceptance or love from her (adopted?) father. I feel struck dumb by her power. But then, as a reader, I am perplexed by the end. This story so starkly refuses to follow or even parody the stories of lost, wild or wicked girls I am used to. I can only feel like I've been hit by a truck that definitely does not care about my delicate sensibilities.
Meijer takes us to the outskirts of polite society, where we bump into the darker side of human sexuality. Stories titled "Jailbait" and "Daddy" are sexually charged, as you might imagine—but maybe not in the ways you're expecting. Somehow, both stories spark a deflated compassion in the reader by their conclusions.
As with every reader, my taste is personal and not universal. I can tell you that my palette includes a sharp aversion to sexual assault and sexualized violence. I just. Don't. Like it. I don't like to read about it. The title story is damn near unreadable for me (but I read it): a neglected teen girl sexually abuses a classmate placed in Special Ed. (The story "Shop Lady" is a bit more tender and of my taste.)
My subjective tastes at play again: I found "Stiletto," about a self-harm-inflicting mechanic obsessed with one customer, nigh unreadable (and yet, again, I did read it). Yet "Fugue," which flips the script on the gang rape of high school girls in American communities, unfolded for me like an act of justice.
I imagine this collection in particular will divide readers and critics; I think that's necessary and exciting.
And yet, some ground tread in this collection is hardly new. "Rapture" is a bit of a letdown if you've seen the film Hard Candy—just swap a young boy antagonist for Ellen Page. Other times, I felt like I'd picked up a particularly violent collection by Miranda July. (But I am not a reader who could handle new, disturbing ground in this collection. No new, icky ground, please!)
I was uncomfortable often, yet Meijer kept me flipping pages until I'd finished all of "Heartbreaker" in one sitting. I honestly don't care what that says about me, and I dare you to do the same.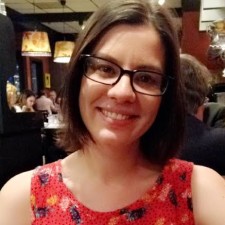 Laura Eppinger graduated from Marquette University in Milwaukee, Wisconsin, USA in 2008 with a degree in Journalism, and she's been writing creatively ever since. She the blog editor here at Newfound Journal.