Anne Boyer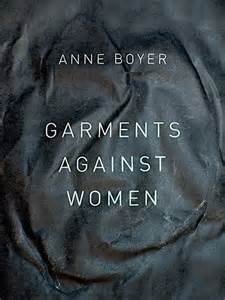 's newest book, "Garments Against Women," is a poetry-prose hybrid that glides between sentences, paragraphs, and chapters with a sense of purpose, leading the reader to paused reflection. The collection covers war, dreams, child rearing, womanhood, literature and relationship constructs, each delivered with blue-tinged heart, soul, and sarcasm.
Boyer portrays a depression and fear of happiness. "Happiness always seemed the province of the idiotic and immoral," Boyer writes. "I am not constrained to abundance, 'happiness' or its absence/infirmity."
Boyer points to the many facts of modern life that may lead to depression, further saying, "There were at least two kinds of people: those who loathed the world and found themselves trapped in the terribleness of it and those who loathed themselves as foil to the world."
Boyer's words, "I am the dog who can never be happy because I am imagining the unhappiness of other dogs," hints at one who martyrs her own happiness for those who cannot have it. Empathy is meant to extend outward and is not meant for martyrdom. If Boyer could afford herself the same compassion as her brethren ("There is being anxious or depressed which takes up many hours though not very much once there is no belief in mental health"), she could have it both ways.
"Garments Against Women" reveals a person bored, if not disheartened, by everyday life and familiar relationships. She discusses the banality of basic living as a battle between the economy, the inner self and the external being. "She is accounting transparently because there is a larger body which claims to know her heart: it assumes her heart is naturally a heart desiring a profit," writes Boyer. "Yet this is not 'nothing to hide:' it is 'something to show'- a performance… that she would so naturally desire profit as to want to steal it." Her ruminations on personal relationships continues: "Two squirrels, either mating or fighting, grabbed at each others neck with teeth. It was some economy of attention, the consumer who never noticed that she had paid enough."
Boyer discusses the state of the modern woman directly and indirectly through history (including Emma Goldman's activist legacy), and the constraints of a culture put upon women. "A woman with any interior is trumped by a man with any exterior." She continues by naming the traits within her: "I was a man who enjoyed the grandeur of buildings…. I was a woman who took notes."
Yet amidst the negativity, there are hints of buoyancy. Boyer writes about her young daughter's words, "Do you have enough dreams?" And while they discuss buying shoes, the reader is blessed with a moment of wisdom in a child, meeting an adult whose dreams have been dampened by reality. Later Boyer writes, "Dreams were the highest order of my experience," suggesting a ray of light among her melancholy. She layers that theme with a softer self-portrayal in the latter portion of the book, where new found love and full-bodied humor momentarily lighten the collection.
And the blue doesn't take away from her sardonic wit; it enhances it. Boyer's depiction of current media is full of surprising farce as she writes, "I get spam from Versailles. It seems like all my life I have gotten images of hard-ons in the mail." She further opines that, "This prize-winning novelist believed… literature preferred to live in the conscious one. This is wrong. Language prefers to live on the Internet."
Regardless of whether readers agree with Boyer's poetic discussions on modern life, no one can deny the honesty with which she writes of what many prefer to ignore. "Garments Against Women" is an anapestic peek into a mind  saddened by the state of present life, but one who occasionally dares to hope it can be better, too.
Lauren Kronisch is a nutrition nerd by day, writer by night. With degrees in history and nutritional science, when she's not counseling clients to eat a balanced diet, you'll find her traveling the world's mountaintops or chomping on dark chocolate while writing poetry, creative non-fiction, and nutrition articles.