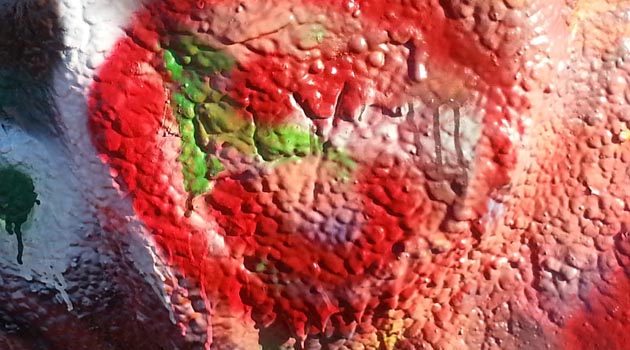 Nov 16
 Last summer, my family and I went on a road trip which included a stop at Cadillac Ranch. For those who are unfamiliar with it, this enormous installation is composed of old Cadillacs planted end-up in an empty field. The history of the work has to do with the evolution of the cars' tail fins. For a car guy, this is interesting enough. Yet, even if you aren't aware of — or don't care about — tail fin evolution, you can enjoy interacting with the work by spray-painting the cars. In fact, this is sort of the point. You don't even have to bring your own paint. Partially-used cans are scattered all around. In our case, another family offered us their cans when they decided to leave.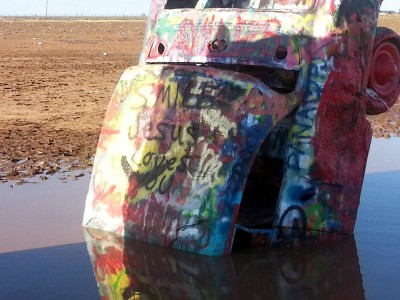 For me, this was one of the highlights of our trip. Not only was it a chance for me to show my children a piece of American art history, I also got a chance to watch others enjoying the artwork. Like the biggest ball of twine, or Austin's Cathedral of Junk, it has a certain mystique, an allure. Unlike cordoned sculptures in climate-controlled museums, installations such as these invite us to experience them fully by walking through and around them, climbing on them, contributing to them.
As we approached this automotive Stonehenge, it felt as though my family was completing a pilgrimage. My childhood was filled with fascination for roadside attractions, and here I was, in a muddy field, staring at the actual cars. My daughters looked at me, asking, "Is this it?" What they really meant was, "Did we come all this way just to see cars with their butts in the air?" But we had. I touched the cars, reverent, waiting my turn to add to the inches-thick paint jobs. My contribution: the red smiley at the top of the page. Nearby, a mother photographed her daughter in ankle-deep muddy water, holding her cowgirl boots. Another family laughed as they slowly turned one side of a car Smurf blue.
The interaction is one of the most important features of public art. It is also what sometimes leads to it being misunderstood or undervalued. Too often, we limit our understanding of "art" to those forbidding and forbidden pieces in galleries and museums. But public art is arguably just as important.
Public art, simply put, is art displayed in public, for the public. This includes statues and monuments, large-scale sculptures in parks and city squares, as well as roadside attractions. No matter the form, there are a couple of factors common to most public art.
Due to the large scale, many public art installations are relatively permanent, so the location often provides context clues to the content of the artwork. The people who live and work nearby also provide context. Public art can be a way for the artist to speak to or about the people in the area.
To me, the most impressive thing about public art is its ability to bring people together. One example of this is the Cloud Gate in Chicago. Known by locals as "the Bean," this mirrored sculpture sits in the middle of AT&T Plaza at Millennium Park. People come to this artwork to see distorted images of themselves as they walk under or around the massive metallic legume. But they also come for photos, to eat lunch, or just to take a break from their busy lives. This artwork has become a gathering place.
If we let it, public art can draw us in. It can inspire play. And it can bring us closer to each other.

Reggie Carlisle finished his BA in Creative Writing at Weber State University in 2014. His first published story was in the Fall 2013 Mixitini Matrix. He currently resides in Utah with his wife and five daughters.