Home Page › Archives › Volume no. 6 › Issue 1 › Reviews: Quench Your Thirst with Salt
Violation and Repair,
Land and Body: Nicole Walker's
'Quench Your Thirst with Salt'
reviewed by Emma Canning

Nicole Walker, "Quench Your Thirst with Salt"
Zone 3 Press
2013, 152 pages, softcover, $14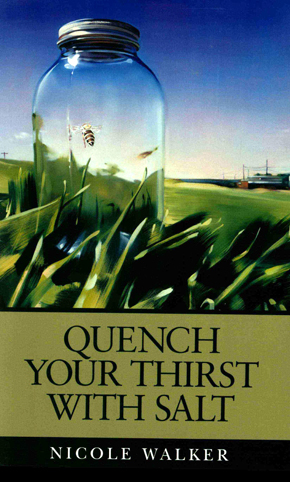 In Nicole Walker's "Quench Your Thirst with Salt," everything is connected. So much so that images and ideas shift and blend into one another: We are the excrement of brine shrimp calcified into grains of sand on the shores of the Great Salt Lake. Our cinched trash bags will become bacterial microcosms in thousands of years. Our families are ecosystems. Our sexuality is a flamingo feather stroked backward and haywire. Walker traces the relationship between humans and their natural environment through a deeply personal and intricate web of metaphors as complex as nature itself.
This collection of creative nonfiction essays draws supple connections between the environmental history of Utah and Walker's own stories about booze and sex and family. Walker layers the supreme forces of drought and extinction against those of sexuality and motherhood, all echoing back and forth to one another over the greater canvas her life.
The main players in these essays are her deceased, alcoholic father, her occasionally hard drinking mother and younger twin-sisters, and multiple semblances of boyfriends. Against the backdrop of the exceptionally dry Salt Lake City, Walker describes life as "squeezing out an existence the same way you squeeze out a splinter, with a lot of pressure, precision, and pain." Walker dexterously builds herself as a well-researched and insightful narrator and creates figurative networks that are delightfully intricate and personal.
At the same time, Walker depicts moments best appreciated from a distance. In "Transubstantiation" 14-year-old Walker role-plays with an older boy during sex. Full of religious metaphors that morph into sexual metaphors, Mormon bishops that morph into variations of Moses, sex into family ties, these juxtapositions are as unnerving as the scene itself: "In a sense, all men are fathers, even if not your own, elementally." Connections become richer and more interesting the longer you mull them over.
In her final essay, "Where the Wild Things Are," the figurative stratum that she has developed starts to evolve. Walker struggles to come to terms with the birth of her first born daughter. She transforms her memory of a wolf into a sex offender in her neighborhood. Her metaphors continue to shift. Walker redefines humans as a part of nature: "Death by man. Death by nature. Still amount to the same thing." She redefines predator and prey: "I staved off victimhood … by writing stories in the third person, by making poetic and empty gestures to the wind about the power of wolves. But my own daughter. That somehow made it hit home." But as she says, "sands shift" and one thing can become something else entirely. What looks like a contradiction is actually another impossibly nuanced and intricate layer about predator and prey. Toward the end of the collection, Walker reshapes much of what she has already written in the first essays—about the necessity of predators, about man's role in the environment.
What nature does with dirt and sediment, Walker does in her book with fine layers of metaphor: presses them into something confounding and wonderful.


Emma Canning is a first year MFA poetry student at Northern Arizona University. She received her Bachelor's degree in English and her MA in English Education from NAU. She writes poems about being a rural Arizonan, the land, and ghosts.