Home Page › Archives › Volume no. 5 › Issue 3 › Nonfiction: Michael Pearson
O'Connor's Georgia
by Michael Pearson
"I think the writer is initially set going by literature more than life."
–Flannery O'Connor, "The Grotesque in Southern Fiction"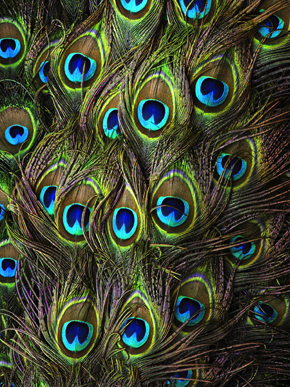 The last time I found myself in Milledgeville, Ga., I borrowed a peacock feather from Flannery O'Connor's home ground, Andalusia, what was in her lifetime a 500-acre dairy farm a few miles outside the center of town. Perhaps borrowed is too gentle a term. I still have that feather, twenty-five years later, as a bookmark in her "Collected Works." On that visit in 1989, spurred by research I was doing for a book titled "Imagined Places: Journeys into Literary America," I fed the two resident donkeys, Flossy and Equinox, under the watchful eye of Flannery's first cousin Louise Florencourt, snatched a blue-eyed peacock feather from the porch of the farm house, met with the intimidating and aptly named Regina O'Connor, Flannery's aristocratic mother who was then ninety-four years old, and was briefly introduced to two exotic dancers at 'Dreamers,' a strip club that could have been part of "Wise Blood."
Now, in the gathering heat in the late spring of 2014, I consider cleansing my conscience by returning the feather to the front porch step where I first laid eyes on it. I didn't want to be damned as one of O'Connor's lost "innerleckchuls" or some Enoch Emery holding too tightly to a false icon. First, though, I'm curious to know if 'Dreamers' survived this quarter of a century, and, if so, I pray the dancers I glimpsed then have moved on. In addition, I'd like to find out how Flossy and Equinox or their descendents fared over the years, and how the locus of O'Connor's imagination—that farm and surrounding area—had accommodated the 21st century.
My friend of three decades, John Lawrence, a Southerner born and bred in Greeneville, Mississippi, and cast in the honorable tradition of good manners, high rectitude, and the classical aesthetic instincts of a William Alexander Percy, picked me up at the Atlanta Airport. I hadn't seen John in some years. His hair had gotten gray, but he remained as handsome as ever, driving a shiny new Jeep Cherokee and quoting Hazel Motes as he pulled up, smiling, a few minutes late to the sidewalk at Baggage Claims: "Nobody with a good car needs to be justified." John had been with me on the original journey to Milledgeville a quarter of a century ago, and this made the circle complete.
When we arrive in Milledgeville a few hours later and enter the tree-lined path that leads to O'Connor's farmhouse, the sun has already begun to bake the red clay. Even in the shade the sun spits fiercely, a word O'Connor favored. It punctuated her stories like a carefully chosen exclamation point. Perhaps it was what she saw from her shaded screened-in porch—fierce silences, fierce stares, fierce light, the scowling women and glowering countrymen, the hissing daughters and cliché-mongering matriarchs that populate her tales of the Christ-haunted South. Her characters stare into dark woods, gaze into the barrel of guns, gape at the wall-eyed proponents of nihilism. She intuited that the writer and the backwoods prophet might have one thing in common—they both had the power to become realists of distances. Characters like Hazel Motes, Manley Pointer, the Misfit, or the pointedly named Mary Grace strike the reader like O'Connor's notion of grace itself—a bullet to the side.
§
Her stories seek the place where cultural tics and social patterns converge with mystery, where the fierce and fading manners of the South connect with the eternal and the absolute. She stokes her fiery narratives with the particulars of everyday life, but those particulars cannot be separated from her vision of the world. Her stories force attention on the nature of pride and its consequential blindness. As she said, "The first product of self-knowledge is humility." She was a Catholic writer in the Protestant South, a woman who had faith not in the symbol of transubstantiation but in its literal reality. She never proselytized, though. Her moral sense always coincided with her understanding of the dramatic. "What the fiction writer will discover," she once explained, "if he discovers anything at all, is that he himself cannot move or mold reality in the interests of abstract truth. The writer learns, perhaps more quickly than the reader, to be humble in the face of what-is. What-is is all he has to do with; the concrete is his medium; and he will realize eventually that fiction can transcend its limitations only by staying within them….[the writer] has no rights at all except those he forges for himself inside his work."
O'Connor sees her plots and characters through the lens of her Catholic faith, but she argues that such a perspective did not limit storytelling but allowed it. "I have heard it said that belief in Christian dogma is a hindrance to the writer," she declared, "but I myself have found nothing further from the truth. Actually, it frees the storyteller to observe. It is not a set of rules which fixes what he sees in the world. It affects his writing primarily by guaranteeing his respect for mystery." In her worldview, spiritual convictions allowed the writer to perceive the grotesque, to acknowledge the presence of evil and mercy all around us. As she often admitted, Southern writers have a penchant for conjuring up freaks—because they were still able to recognize one in their midst. She considered herself a Romantic like Hawthorne, "seeing near things with their extensions of meaning and thus seeing far things close up," keeping for fiction some of its freedom from social determinism" and steering "it in the direction of poetry."
She was convinced that writing was an act of hope and communication, and that storytellers and readers demanded the possibility of a redemptive moment. "People without hope," she said, "do not write novels." But she was also sure that modern readers had "forgotten the cost of it….forgotten the price of restoration…." She took her own advice as a writer to be "less timid as a novelist, more respectful of the concrete, more trustful of the blind imagination." She knew she was shaping stories for a hostile audience, and she dramatized the powerful cost of redemption, usually a surprising, eye-opening external or internal moment of violence—families murdered by Bible-spouting psychopaths, farm wives gored by myth-shadowed bulls, prophets burning their eyes out with lime, revelations and visions in the sky, sight turned inward, pride exploded by circumstance. She determined to make her vision dramatically true and apparent by shock—"to the hard of hearing you shout," she said, "and for the almost blind you draw large and startling figures."
But for all the precise realism in novels like "Wise Blood" and a dozen or so of the best short stories written by an American in the second half of the twentieth century, her work carries the distorted humor and near-caricature of much post-modern writing. Most would assume that she created her stories at a considerable distance from Faulkner's influence, but she outlived him by barely a year and was always well aware of his presence on the literary landscape. "Nobody wants his mule and wagon stalled on the same track the Dixie Limited is roaring down," she once drawled. Like Faulkner, though, she depicted the complexity of race in her region; she portrayed the intricate cords of manners, the reach of the past, the penchant for violence, the poverty, the roots of ignorance, and the strong sense of pride. Unlike Faulkner, she sharpened her sentences to a pinpoint, simple and straightforward. They confront the reader with a brutal clarity, an uncluttered syntax, compressed hard as flint and when struck against her steely-vision of failed compassion and humility ignites the reader's imagination. Her characters—Joy-Hulga Hopewell, Mrs. Turpin, Julian, Mrs. May, and many others—look directly into the faces of evil and grace to find mystery in the unexpected, to consider the limitations of their social humanism, and to ask themselves what knowledge can sustain them. It took Elizabeth Bishop only four words to sum up O'Connor's style—"economical, clear, horrifying, real." O'Connor compressed it into two—describing it as a "one-cylinder syntax."
In O'Connor's world, the holy man has a kinship with the poet. "The poet is traditionally blind," she once reminded an audience, and many of her characters must be blinded before they can see. Many—the grandmother in "A Good Man is Hard to Find" or Hazel Motes in "Wise Blood"—need death to help them calculate the meaning of life.
For most of O'Connor's adult life, death was an unavoidable presence. Born in Savannah in 1925, she moved to Milledgeville as a teenager when her father was diagnosed with lupus, the disease that was to take his life a few weeks before she turned sixteen and her own before she celebrated her fortieth birthday. In Savannah, O'Connor was educated in what she called the "novena-rosary tradition," amidst intricately carved confessionals, raven-robed priests chanting Latin phrases, marble altars, the aroma of sin as palpable as incense, and penance and redemption always at hand. She thrived in her environment, poor in Math and Spelling (even as an adult she termed herself "a very innocent speller"), but excellent in Catechism and Reading. Her relatives thought her odd, in one cousin's recollection, "a very peculiar child." From an early age she proved dangerously creative. At ten, she wrote a book titled "My Relatives," which enjoyed a print run of seven copies and as the author later admitted: "It was in the naturalistic vein and was not well received." Even as a child her writing revealed a funny sense of outrage that caromed through her adult letters and essays.
Her father's death surely colored her view of the world, and her own struggle with serious illness helped shape her inclination to portray people facing ultimate questions. Precociously and presciently, as a seventeen-year-old freshman at Georgia State College for Women (a stone's throw from her home in Milledgeville), she saw God's grace breaking "our complacency like a bullet in the side." At that time GSCW was the kind of place where girls got suspended for smuggling cokes into their dorm rooms. O'Connor lived at home but stretched her cultural boundaries by drawing cartoons and caricatures for the school newspaper and magazine. For a time she dreamt of making drawings for The New Yorker. In graduate school at the University of Iowa, the limits of her ability as an artist and her success as a writer led her to the Writers Workshop with Paul Engle. That's when Mary Flannery O'Connor became Flannery O'Connor. She claimed that at the time she didn't know a short story from an ad in the newspaper but she reasoned that an MFA Program might be a better alternative than "the poor house and the mad house." She entered the writing life with a religious fervor and, in the words of her biographer Brad Gooch, "if she wasn't writing, she was reading." In the summer of her 21st year her first short story, "The Geranium," was published in Accent.
After Iowa, with a book contract in hand for "Wise Blood," she spent time at Yaddo in New York and then with her newfound friends Sally and Robert Fitzgerald in Connecticut. She was out of Georgia and had broken free of the protective confines of Milledgeville. As she wrote to Elizabeth Bishop, "were it not for my mother, I could easily resolve not to see Georgia again." Lupus changed all that. At twenty-five years old she began the battle that she would lose at thirty-nine. Shortly after what Brad Gooch describes as the "harrowing debut of her illness," Flannery moved back to live with her mother in Georgia on Andalusia and, except for brief speaking tours and rare visits to friends, she never left. The same caustic wit, Gothic humor, and razor-sharp intelligence she employed to portray her characters and lay out her unsentimental spiritual vision, she used to face her own mortality. In a letter to Robert Lowell, shortly after learning about her lupus, she said, "I can with one eye squinted take it all as a blessing. What you have to measure out, you come to observe more closely, or so I tell myself."
Her first novel, "Wise Blood," came out to much praise from the critics but plenty of confusion, as well. Neither of her short novels was received with the same enthusiasm as her short stories. Like Hawthorne and Cheever, she mastered the short form, writing tales with a vernacular poetry and comic clarity that proved simultaneously startling and mysterious. Like Hawthorne, she produced unnerving romances and like him she had a shy streak, picturing herself as a "thirteenth-century Catholic" and "a hermit novelist." Both true—she wrote each day with a dedicated fervor, even days before she died, and every morning at seven a.m., she attended mass with her mother at Sacred Heart Church in Milledgeville. On Sundays, she went to the 7:15 a.m. mass so that she didn't have to dress up, combining, as she said, "the 7th Deadly Sin with Sunday obligations." She went unread and misunderstood in her hometown and on the farm where she resided with her mother. Her mother may have been her least understanding reader. Regina acted as both nemesis and godsend to her daughter. One neighbor remembered her as a "tyrant—though a beloved one" who was likely the model for many of O'Connor's crusty, narrow-minded, and pragmatic mothers and grandmothers. Love, dependency, frustration, and antagonism all swirled together in her relationship with Regina, and some of the fictional matricides might have been her way of saying so. In a letter, she described her mother's reading of one of her stories, "She has got the idea that 'literary' writing is distinguished from what normal people enjoy and therefore cannot be judged by her feeling about it. She said, 'Does it have symbolisms in it? You know when I was coming along, they didn't have symbolisms."
When her books and stories came out or found themselves translated into television dramas, she got the sort of attention she loathed. "Around here," she once wryly complained, "if you publish the number of whiskers on the local pigs, everybody has to give you a tea." She was bothered more by the wrong sort of attention than by any anonymity. "Everybody here shakes my hand," she said, "but nobody reads my stories. Which is just as well." In 1957, when CBS produced "The Life You Save May Be Your Own" with Gene Kelly as Tom. T Shiflet, O'Connor thought the whole situation pathetic but quite funny, and she took it with a practical turn of mind—"A staggering thought," she wrote to a friend. "Mr. Shiftlet and the idiot daughter will no doubt go off in a Chrysler and live happily ever after. Anyway, on account of this I am buying my mother a new refrigerator. While they make hash out of my story, she and me will make ice in the new refrigerator." Besides, she knew that however the moviemakers bastardized the tale, her kinfolks would take it as "a great improvement over the original story." Her agent's secretary wrote to her that the television drama was as close to the original story as it could possibly have been, but O'Connor knew better—the secretary's statement meant she hadn't read the original. "Anyway," O'Connor wrote with what sounded like a sigh, "[the secretary] allowed that they were going to query Rogers and Hammerstein and see if they would like to do a musical adaptation. I can't decide if this was supposed to be a joke or not. I rather think not. I would rather see it a musical than what was on that tv program.
The life you save may be your own
Hand me there that tellyphone
Hideho and hip hooray
I am in this thang for pay
I will submit same to Rogers and Hammerstein."
In her letters and her speeches, O'Connor was tough-minded and often witheringly laconic and by all accounts without even a touch of self-pity. Even when she was suffering, she found a way to be funny. In a letter to her friend Betty Hester (the "A" of the Collected Letters), she described a visit to an Atlanta department store. An elderly woman had turned to her as O'Connor balanced on her crutches in an elevator, offered a pitying glance, and intoned, "Remember what they said to John at the gate, darling!" To Betty Hester, O'Connor wrote: "It was not my floor but I got off and I suppose the old lady was astounded at how quick I could get away on crutches. I have a one-legged friend and I asked her what they said to John at the gate. She reckoned they said, 'The lame shall enter first.' This may be because the lame will be able to knock everybody aside with their crutches." O'Connor described another blue-haired lady who wrote that her last book left a bad taste in her mouth. O'Connor's response consisted of one sentence: "You weren't supposed to eat it." She spent a few more sentences on the English professor who "strained the soup too thin" in his interpretation for his ninety students. "If teachers are in the habit of approaching a story as if it were a research problem for which any answer is believable so long as it is not obvious," she chided him, "then I think students will never learn to enjoy fiction. Too much interpretation is certainly worse than too little, and where feeling for a story is absent, theory will not supply it." Honest but not inclined to be cruel, she ended the letter by saying, "My tone is not meant to be obnoxious. I am in a state of shock." A month later the English professor and his class were still on her mind when she wrote to her friend the novelist John Hawkes, "I am conscience-stricken that I answered the man is such a harsh fashion. At the time, the thought of this interpretation multiplied by 93 was too much for me, but there was no excuse for this rudeness. I hope that before I die I either mend my manners or have less occasion to use them."
She was both scandalized and amused by the letters she received and the people she encountered in her home state. She found all the mystery and manners she required for her storytelling within easy reach of Andalusia. Near the end of her life, on one of her many hospital visits, she had a conversation with a woman in Admssions that she decided was worth repeating in a letter: "When I came in & gave the information about myself at the admitting place, the woman, who had carrot-colored hair & eyeglasses to match, asked me by whom I was employed. 'Self-employed,' says I. 'Whats your bidnis?' she says. 'I'm a writer,' I says. She stopped typing & after a second said, 'What?' 'Writer,' I says. She looked at me for a while, then she says, 'How do you spell that?'" On another hospital visit a few months before her death, she met a nurse who was a dead ringer for Mrs. Turpin, with the same sense of pride and racism. If she had lived longer, most likely the nurse would have made an appearance in one of O'Connor's stories. "I seldom know in any given circumstance," she said after that encounter, "whether the Lord is giving me a reward or a punishment. [The nurse] didn't know she was funny and it was agony to laugh and I reckon she increased my pain about 100%." Robert Coles called O'Connor's attitude toward the South "both protective and critical." Truly, none of the people she met or the ones she wrote about were beneath her contempt or beyond her sympathy. Even a Mr. Head in "The Artificial Nigger" can feel the "action of mercy touch him." A Joy-Hulga can be stunned into seeing, a bullet can save the life of the grandmother in "A Good Man is Hard to Find," or the "tide of darkness" can sweep Julian in "Everything That Rises Must Converge" back to guilt and sorrow and humility.
From the outset of her career, O'Connor had an unwavering sense of her Catholic faith and her vocation as a writer. Even as a twenty-four-year-old working on "Wise Blood," her first novel, she bristled in the correspondence with prospective but myopic publisher, "I am amenable to criticism but only within the sphere of what I am trying to do. I am not persuaded to do otherwise. The finished book, though I hope less angular, will be just as odd if not odder than the nine chapters you have now. The question is: is Rhinehart interested in publishing this kind of novel?" The publisher saw her response as "stiff-necked and uncooperative," but in retrospect the reader senses only artistic honesty and integrity. O'Connor's habit of being shaped the way she wrote and lived. She measured out her stories and the moments of her life with what her illness left her, and it was in that disciplined existence that she discovered the form to make art out of her spiritual vision.
§
John Lawrence and I spend the afternoon roaming the grounds of Andalusia. Twenty-five years ago it was still a farm owned by Regina O'Connor. Now it's a museum. Flannery would surely rather have been "drawn and quartered" than be "roped into any such" situation. She found book signings and speech making unnerving. How would she feel seeing her life turned into a shrine? I wonder if her spirit sulks on one of the white rocking chairs on the wide screened front porch as people drive up to view the roped-off rooms and the caged peacocks. As if to answer my question, the peacocks screech out as we park next to the only other car in the lot behind the house. April Moon Carlson and Elizabeth Wylie, the manager and executive director, divide up the scant museum-goers and point out the refrigerator that O'Connor bought with the proceeds from the CBS version of the Tom Shiftlet story or the bed where she slept. It's Elizabeth who nudges me into the back room to show me a suitcase they are "test marketing" for the museum. "We call it the Manley Pointer suitcase," she says with a gleam in her eye and opens it to reveal a Bible with a hollow center and a flask in it, a box of condoms, and a deck of lurid playing cards. In that moment I know just how O'Connor must have felt in that hospital, considering whether the Lord was giving her a reward or a punishment.
On the way out of town toward the highway, the sun slipping behind the tree line, a purple streak in the sky bleeding down toward a sign that looms in front of us reading "Killed or Injured? Contact the Law Firm…." It's not a sentence that anyone could logically parse, but it's one I can imagine Flannery O'Connor's reading and realizing it was a gift from God to a storyteller. Back on the highway headed south toward LaGrange, traveling at seventy-five miles an hour, I watch as a rusty brown Honda Civic in front of us blows a tire and spins out in what seems a slow motion pirouette and crashes against the cement median. John's pulls off the highway and I run back to check on the young man who was driving. He has a cell phone in his hand and appears unshaken even though his car is little more than a twisted sculpture abutting the cement barrier. He looks up at the purpling sky, waves me away to say he's fine, and speaks into the phone as if he is whispering some wisdom about the last judgment into his own ear.
The cars hurtle by me, and I stand there thinking not about the fact that I'm on the edge of the highway, inches from speeding trucks and a swift death, but that I never did return that twenty-five-year-old peacock feather or check to see if Dreamers had shut its doors. To make matters worse, in my pocket rest a rusted copper doorbell cover and a white female peacock feather that John, his Southern honor influenced perhaps by my flawed Yankee morality, borrowed from the back steps of the farmhouse at Andalusia. As we drive south I could swear we head toward a cloud shaped like a turnip, a guffawing peal of thunder sounds in the rear, and no matter how fast John drives those fantastic raindrops will find us because, like the characters in O'Connor's fiction, we too deserve mercy and redemption.

Follow this link to read Newfound's concurrent interview with the author.


Michael Pearson has published hundreds of essays, stories, and reviews in The New York Times, Creative Nonfiction, Shenandoah, and many other venues. He is the author of the novel "Shohola Falls" and six books of nonfiction. His newest book, "Reading Life," is due out in the spring of 2015.
"Beautiful Peacock Feathers" by Rose Mendoza, used under CC BY | Rotated from original